Barre de Pixel de puissance élevée de LED d'étape de location

La rondelle menée par RGBW de luminosité élevée, 14 * 10W RVB LED
Protocole DMX512
Description des produits
Lumière de rondelle de mur à effet de scène est une bande linéaire LED haute puissance conduit l roite, il contrôle par le protocole standard dmx 512 et peut utiliser dmx console ou contrôleur led dmx pour programmer les effets d'éclairage de scène merveilleux, pour rendre l' atmosphère de scène paisible, excitant, ou tout simplement élevé.
Paramètres du produit
Parameters

Description

Model

LED-WW93166-DMX110V14RGBW

Control Mode

DMX512

Pixel QTY

1-14 pixels per meter

LED QTY

14pcs 10W RGBW LED

DMX Channels

4 DMX channels-56 DMX channels

Lens

16°, 25°, 55°

Input Voltage

AC90-240V

Power

MAX=150W

Dimension

L 1048mm x W 93mm x H 166mm

LED Source Life

50,000hours,based on LED manufacturers` test data

Housing

Silver aluminum + Tempered glass

Wiring

3 pin S male for DMX input, 3 pin S female for DMX output,

3 pin L Male for power input, 3 pin L female for power output

Temperature

-20 to 50degree Celsius operating temperature

Humidity Range

0 to 95% non-condensing

Protection

IP65

Net Weight

Approx 7.5KG

Guarantee

2 years
Exposition de photos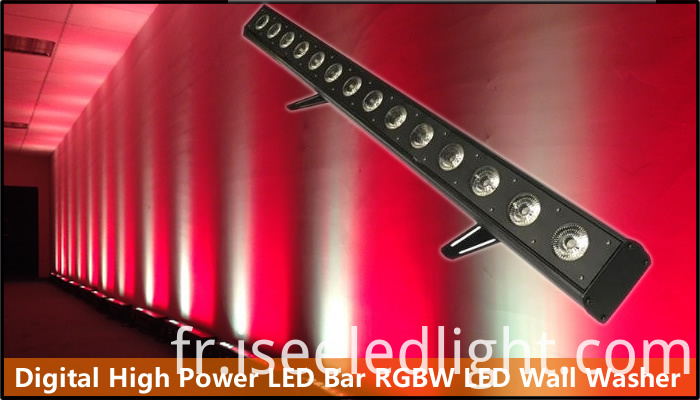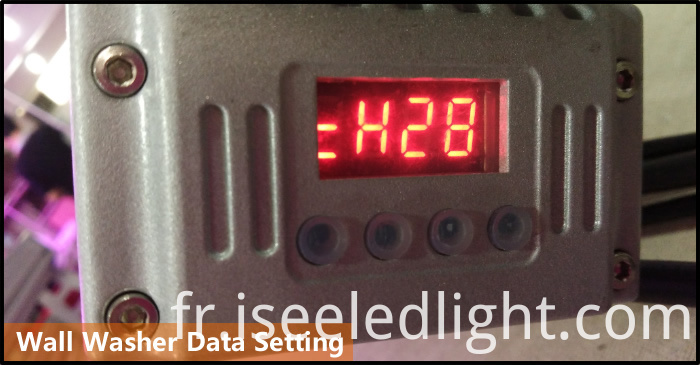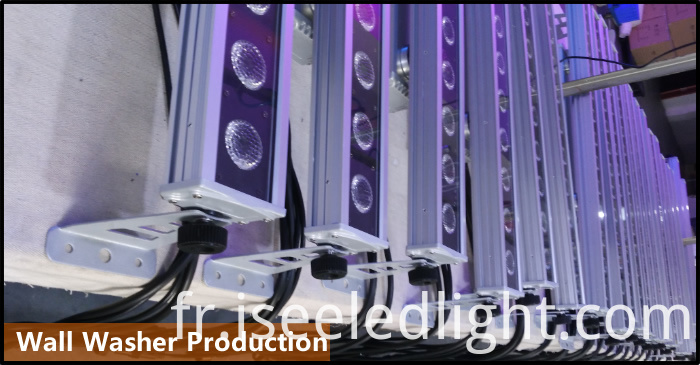 Emballage et expédition

À propos de nous
ISEELED se spécialise dans les solutions complètes d'éclairage LED pour les grandes surfaces commerciales, les clubs, les concerts, les hôtels et les centres commerciaux, ainsi que les décorations LED pour votre maison. Et pas seulement les luminaires à LED et les contrôleurs. Nous proposons également des solutions logicielles et matérielles pour réaliser des effets spéciaux.
Notre service
Service avant-vente
24 heures de service, et fournir une solution personnalisée et proposition selon différentes exigences, customer & acutes catégories de produits, des exemples réussis de projets , etc. Et visite d'usine, dessin d'effet simulé etc.
Service en vente
Fournir des détails sur le calendrier de production et de la procédure et f ree pièces de rechange: les pièces de rechange nécessaires sont fournis avec des produits aux clients.
Service après-vente
Formation technique gratuite et garantie de qualité . Ensemble complet de documents gratuits, y compris les conseils d'installation, le manuel d'utilisation du logiciel, le manuel de maintenance facile et le logiciel du système de contrôle, etc. Et la période de réponse ne doit pas dépasser 24 heures; Guide d'entretien et solution de problème fournis en 48 heures.
Bienvenue à l'enquête!
Groupes de Produits : Éclairage extérieur LED > Lumière de laveuse murale LED